Tutor for English & Language Arts in Fort Worth, TX
In today's world of social media and short-form communication, it's increasingly important to possess the ability to communicate clearly. Students and adults who can express their thoughts in writing gain an incredible advantage in their chosen fields. Reading comprehension is also critical. The capacity for processing and understanding information quickly and making informed decisions regarding that information is a valued commodity in the workforce.

It's not just about employment or entrepreneurship, however. Facility with the English language is a boon to personal development, creativity, and human flourishing. Writing poetry or prose, composing musical lyrics, the art of the playwright - all these things tap into our creative power as human beings through the use of language. These language arts help connect our left and right brains, creating more fully-formed human beings with deep artistic capacity and self-knowledge. Through communication and imagination, the greatest of these artists - people like Morrison, Whitman, Du Bois, Woolf, and Mamet - help us connect to ourselves and the world around us in startling, and often unexpected, ways.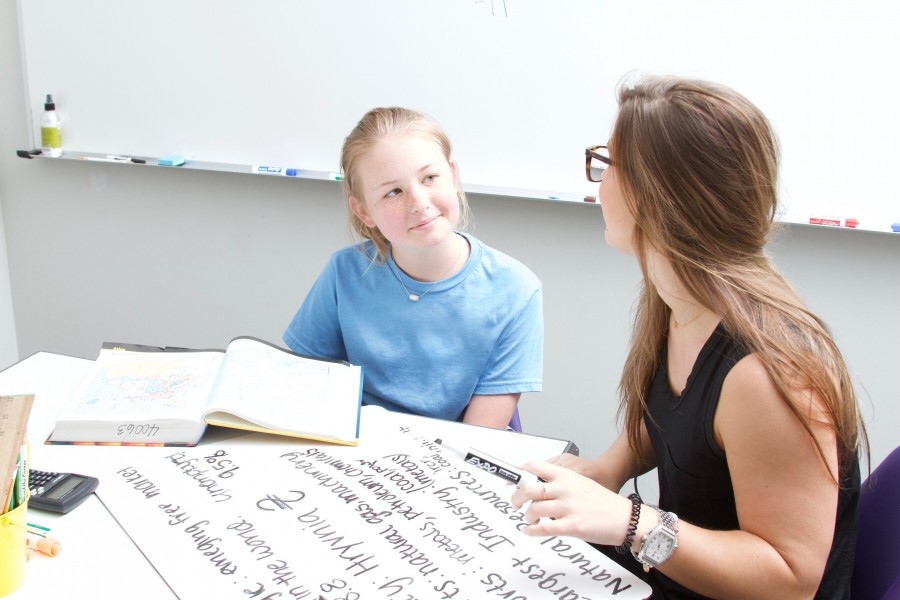 If your child needs assistance with language arts, it's critical to find a tutor that understands how written communication forms the foundation for overall education and creativity. We believe that the well-practiced skill of expressing oneself through the language arts is essential to a well-rounded human being. Tutoring is a great way to sharpen that skill, and our tutors are passionate about helping your student achieve their potential with English and language arts.

Math Around the Corner is Fort Worth's premier resource for English and language arts tutoring. Whether your student struggles with reading or needs help writing and editing a paper, Math Around the Corner can provide the necessary assistance to flourish. Our specialized tutors possess proficiency in childhood education, English, journalism, and other subjects related to language arts. We use a multiplicity of techniques and accommodate diverse learning styles to help your student improve their spelling, comprehension, grammar, and critical thinking skills dramatically.
If you want your child to experience success in every subject, including English and language arts, enroll today in Math Around the Corner's tutoring here in Fort Worth, Texas. We can't wait to help your student achieve their fullest potential.
Converse Confidently with Personalized Language Tutoring
Enroll Today